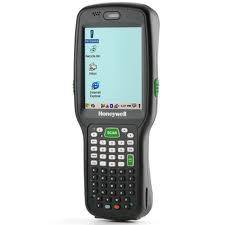 2DTG unveils DPM Reader for Honeywell Dolphin 6500 Mobile Computer. Functionally it's the same product as DPM Reader (Plugin) for Xenon 1900 platform, but compiled in Windows CE 5.0 environment.
Honeywell 6500 is a lightweight and versatile mobile computer that provides advanced data collection and real-time wireless communication for in-premise applications in retail, grocery and light-industrial supply chain environments.
Though Dolphin 6500 utilizes an older generation imager (N5300), when upgraded with Dot Peen Decoder it demonstrates decent DPM performance for different types of DPM mark on a variety of substrates. Extending its capabilities to the DPM area might be particularly beneficial for the "light-industrial" application where DPM mark is widely used along with the regular ("paper") label.