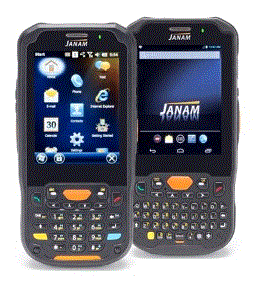 2DTG introduces DPM Data Matrix decoder and SDK built for Handhelds's Nautiz X4 and Janam X5 mobile computers powered by Windows Embedded Handheld 6.5. Though it is designed just for Data Matrix DPM (Direct Part Marking), including Dot Peen, applications, it's also seamlessly integrated with the system decoder for customer convinience, so there is no need switching back and force between them when doing DPM decoding. Both devices demonstrate solid DPM reading performance with "DPM addition" – on par with the specialized DPM scanners in the market.
2DTG's decoder utilizes built-in Honeywell Imager to capture an image using hard Scan button on the face panel of the computer.
DPM upgrade can be added to any configuration of Nautiz X4 or Janam X5 computers running Windows Embedded Handheld 6.5.