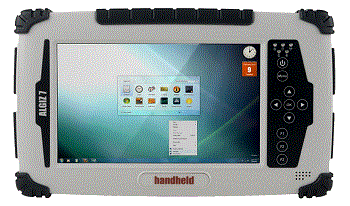 Algiz 7 offers netbook size, performance and functionality in a device that weighs only about half as much as a standard tablet computer. Size and weight alone mean that this computer can go places where larger systems aren't practical. It features multiple connectivity options and a wide range of functionality.
Product advantages / differentiations:
PERFORMANCE - based on a 1.6GHz Intel Atom Dual Core processor with 128 GB Solid State hard drive and 4 GB of DDR3 RAM, the fanless and silent Algiz 7 has enough performance for many tasks, and it feels quick and responsive in everyday use. It runs Microsoft Windows 7 Ultimate operating system.
RUGGEDNESS - Algiz 7 carries IP65 sealing and it also passed the MIL-STD-810G military standards for protecting against dust, water, vibrations, drops, and wide operating temperature range from -9 to 122 degrees Fahrenheit.
7-INCH DISPLAY with MaxView™ Sunlight readable screen technology - perfect for field professionals - the screen's ambient light sensor adjusts backlighting automatically — so collecting data in bright sunlight is just as easy as reviewing it indoors.
DATA COLLECTION is easy and intuitive with this Algiz tablet, thanks to the built-in 5-megapixel camera with LED flash, microphone jack and several connectivity options, including waterproof USB 2.0 and RS232 ports, plus LAN ports. Optional Barcode Decoder with Scan Wedge capabilities extends Algiz 7 usefulness to Product Lifecycle Management, Supply Chain systems and warehousing.
WIRELESS CONNECTIVITY - Algiz 7 models come with fast dual-band 802.11ac a/b/g/n WiFi and integrated Bluetooth. The fully integrated 3G antenna and modem provide high-speed GSM/UMTS/EVDO data transmission. Algiz 7 is ready for Gobi™ 3000 technology - which means that you'll be able to work on your choice of wireless frequency anywhere in the world. Optional 3G cellular capabilities provide high-speed GSM/UMTS/EVDO data
The winning combination of ruggedness and portability makes the Algiz 7 perfect for industries such as homeland security, public safety, field service, GIS/mapping, logistics, railways, telecommunications, energy, law enforcement, military, warehousing - just about anything.
SPECIAL OFFER!
2DTG offers Barcode Decoder (Data Matrix, QR Code, 1D) fashioned for tablet PCs powered by Windows 7-10.
The package includes Barcode Reader (Demo application for performance evaluation) and Scan Wedge Barcode Decoder - ready to use data collection tool. Data Matrix Decoder includes "Dot Peen capabilities" extending its use to DPM (Direct Part Making) area.