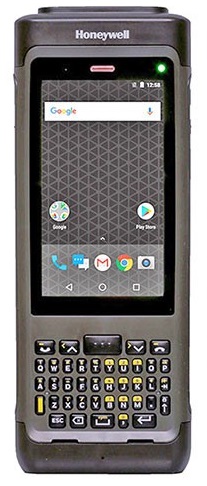 The Dolphin CN80 can be viewed as a successor to Dolphin CN75 and marks the transition from legacy Microsoft-based devices and systems to the Android era. It designed to help logistics, warehouse, and field-mobility organizations to transition to this new world. The CN80 is also a member of the Honeywell "Mobility Edge Platform" family. This concept - common hardware and software platform - delivers enhanced operational efficiency and reduced TCO. Allows to deploy the same applications on multiple products across your enterprise.
The major difference with other members of "Mobility Edge" family is a combination of very rugged touch screen with a full hardware keypad. If you have high transaction rates, an environment where workers wear gloves, or applications or workers accustomed to working a certain way, keys are a necessity. The CN80 can be ordered either with a 23-key numeric or 40-key alphanumeric keypad, both backlit and offering programmable and shiftable keys to add functionality and access function keys.
The Dolphin CN80 is a very rugged device – besides a MIL-STD 810G drop spec and IP67 sealing, it features a wide -4° to 122°F (-20° to 50°C) operating temperature range, and the ability to handle more one-meter tumbles than any device will ever encounter.
The Dolphin CN80 features fast data processing and 1D/2D scanning, advanced network connectivity, and advanced battery life lasting twice as long as previous generations to keep your workers connected and productive throughout multiple shifts.
The Dolphin CN80 ships with 1-year warranty from Honeywell. Most configurations can be shipped within 1-2 days. Some configuration may require special order from manufacturer. Please contact Customer Support for product lead time.