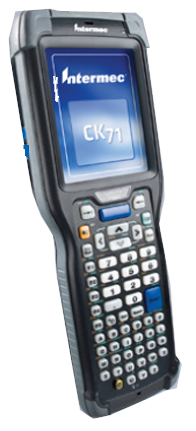 The 70 Series of Intermec ultra-rugged mobile computers includes four models, those being the CN70, the CN70e, the CK70, and the CK71. The CK70G and the CK71G are just two models out of four available for the Government in this Series that share the same architecture, same peripherals, same docks, same software builds, same technology. This can result in reduced complexity in deployment, updating, management, and also in lower total cost of ownership.
The CK70/71 differs from the CN70/CN70e primarily in that it uses the larger handheld terminal form factor with larger keypads. CK70 is designed specifically for the needs of courier express, parcel and postal environments, with ergonomics that allow all-day single-handed use.
The CK71 differs from the CK70 (with which is shares the form factor) in available keypads and also in the availability of optional scanners for different types of scanning requirements. As such, the CK71 is designed for use in a variety of warehousing, manufacturing and similar environments.
The CK71 is the only member of the 70 Series that comes with the optional EX25 Near/Far 2D imager with an extended scanning range of about half a foot all the way to 50 feet (see EX25 spec page). The EX25 is the industry's class leading – the only auto-focusing 2D imager that can read near and far field, up to 50ft/15m.
All models have most impressive ruggedness specs, including a 6-foot drop spec, IP67 sealing, and a very wide -4 to 140 degree Fahrenheit operating temperature range.
Overall, CK70G/CK71G base configuration includes:
TI OMAP3 1GHz processor, 512 MB RAM, 1 GB Flash ROM, Windows Embedded Handheld 6.5 Premium OS, Dual-Band WLAN, EA30 High-Performance 2D Area Imager, Battery Pack, Non-Incendive certification, FIPS certification.
Packaging / Shipping
CK70G/71G carries 3-year factory warranty and comes pre-configured in multiple configurations, ensuring you only pay for the features/options you need. Options include choice of Keypad, Wi-Fi and Bluetooth, and Barcode Scanner.
All CK71G models (configurations) do not feature Camera and WWAN Radio; factory pre-ordered; ship within 8 weeks.
Required Accessories: Docking systems for charging and associated power supplies.