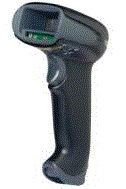 The general-purpose Honeywell Xenon 1950 series scanner can be considered as an upgrade to the well-known Xenon 1900. It incorporates the 7th generation of Honeywell's proven imaging technology, a 1-megapixel imager (1280 x 800) and 800mhz processor to deliver superior scan performance. It's up to 2x faster than Xenon 1900, with improved snappiness and "depth-of-field" scanning.
The Xenon 1950 XP features the same form-factor and is backward compatible with Xenon 1900 and 1902 configuration and accessories, eliminating the need for customers to replace already deployed axillary equipment when upgrading Xenon inventory, thus reducing total cost of ownership.
Available as a standard range (SR) and high density (HD) barcode scanner, the Xenon 1950 is designed for retail environments that demand high accuracy scanning of barcodes, whether at a distance, or even on damaged barcodes, it's optimized for scanning both digital codes off customer smartphones and merchandise codes. At the same time the Xenon 1950 is well suited for a wide variety of applications or needs that require the versatility of area-imaging technology.
The Xenon XP 1950g is available in Black or White models to match the scanner to your environment, and an available vibration mode ensures you get scanner feedback regardless of your surroundings.
Upgraded with DPM (Direct Part Marking) Plugin by 2DTG, Xenon 1950 demonstrates strong DPM / Dot Peen performance on par with the industry leading specialized DPM scanners and up to 2x faster than Xenon 1900. Coupled with Xenon's IP41 rating, DPM plugin makes it well suited not only for the consumer market, but for many industries, as well. It's a DPM Reader for the fraction of DPM platform cost.
Another "Add-On" feature, offered by 2DTG, is Mobile Data Matrix Security Plugin (DMPS Plugin) fashioned for Xenon, Granit and Voyager scanners. DMPS Plugin features Data Matrix Authentication / Decryption and DPM/Dot Peen capabilities, as well.
Both DPM and Data Matrix Security upgrades can be added to each configuration. Xenon's HD version (higher resolution) might be preferable for many DPM applications.
Packaging / Shipping
The Xenon 1950 comes with 5-year factory warranty, pre-configured in dozens of configurations, ensuring you only pay for the features/options you need. Most configurations can be shipped within 1-2 days. Some may require special order from manufacturer. Please include Serial Number of your device into your order if you are buying just software upgrades/apps only.
Please contact Customer Support for product lead time.