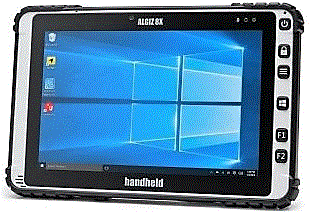 The Algiz 8X Windows tablet combines powerful computing, rugged strength and superior screen technology. The Algiz 8X is fully rugged and built for outdoor use, yet it's also easy to hold, carry and operate. It comes with a range of features that make collecting and analyzing data fast and intuitive, and it's customizable for your specific needs.
The Algiz 8X offers communication features such as LTE and dual-band WLAN, along with an 8-inch projective capacitive touchscreen that is ultra-bright and built for outdoor use. Enabling glove mode or rain mode allows for seamless operation in changing weather. The chemically strengthened glass can take a beating — it survives an impact test in which a 64-gram steel ball is dropped on the screen 10 times from a height of 1.2 meters.
The Algiz 8X also comes with an optional active capacitive stylus.