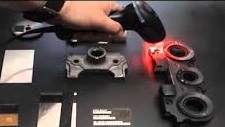 2DTG offers a number of Embedded and Mobile applications for product and document authentication that read Data Matrix protected symbols. These applications are an integral part of Barcode Protection Suite and designed particularly to satisfy the needs of the "receiving party" in barcode based Track and Trace solution. It is also an integral part of a brand owner's authentication or brand protection strategy.
They utilize the same Digital Signature concept for data authentication, as Barcode Protection Suite. But, unlike "classic" concept that utilizes asymmetric algorithm - a private key for signature generation, and a public key for signature authentication – we use symmetric key algorithm integrated into the encoding/decoding mechanism. The "classic" approach is nearly always very computationally intensive and cannot be used on embedded (DSP-based) platform (scanner).
The decryption algorithm also satisfies technical requirements for embedded processors.
The embedded version is implemented for Honeywell's Total Freedom family of scanners based on N56xx and N66xx scanning engine: Xenon 1950/1952, Vuquest 3320g, Granit 1910i/1911i/1920i/1990iSR/1990iXR/1991iSR, Voyager 1470g/1472g/1602g.